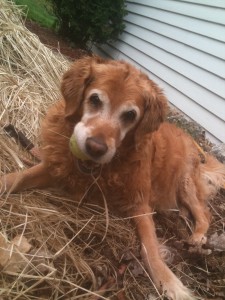 Now I call her "My Little Abby" as she has diminished from 78 pounds to below 25 pounds. She was such a furry cuddly Golden and came from an aristocratic thoroughbred English background. Abby was so gentle that David maintains he never had to scold her as she never did anything wrong.
We went pheasant hunting in South Dakota and that girl doggie did not stop once over a two hour period of roaming. Because she plowed through brush and cornfields, we spent an entire day pulling various burrs  from her coat. She reveled in the whole experience as that is what she was bred to do.
Her little sister, Sage, barked for the first time at a black Angus bull on the way home. Way to go, warrior girl! A bird dog? Not sure. Sage just gets distracted and runs like a perfectly gaited quarter horse. That is her thing. Running against the wind.
I held Abby early this morn as I could not sleep any longer. She is always with me as she is blind, arthritic and incontinent. She hobbles on three legs and sometimes needs a white dish towel sling to stabilize her backside. Her desire to live and smell and breathe was reinforced as we sat on the newly mown hillside and just inhaled the cleansing smells. Her nose was sniffing and so was mine.
It won't be long now. I know it. She knows it. I can just bury my head in her doggy smell and hope that she sees the California poppies forever from the top of the bluff.