You butter believe it! These picks have an extra dimension of flavor that I learned from my maternal grandmother's spiced peach pickle recipe. Oil of cloves and cinnamon coupled with snippets of fresh bay leaves replace pickling spice seasoning. I maintain visions of sitting in her pristine blue and white kitchen enjoying a bowl of glistening red strawberries with heavy cream and sugar for breakfast. I did not care for the cod liver oil followed by orange juice.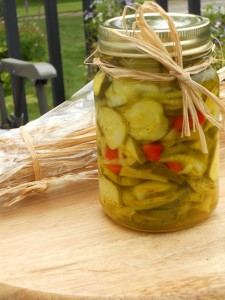 Back to the pickling reasoning. Using the spice oils allows the product to retain a fresh appearance instead of turning an unappetizing brown around November 31st. And the taste remains constant because I haven't used last year's cinnamon sticks that I just could not part with. The same applies to cloves. There are cloves that remind me of a toothache and then there are aromatic cloves from Penzey's. I am not a spokesperson for Penzey's …yet. But those cloves are intense.
I bought a small laurel bay plant a year ago and it has grown very well inside. It enjoys the southern exposure and regular watering. I withhold fertilizer from November until March. Fresh bay adds so much flavor for both savory and sweet dishes and makes me wish I lived in California.
Bread and butter pickles are more than likely the cloying pickles you didn't like from "the relish tray" as a kid. Now they mean a lot.
Maybe they are part of locating our center when we smell the opening of the jar for Thanksgiving. That is summer, fall and fresh all in one reminiscent pungent flavor.
Grandma Marie Thompson Reinertsen's inspired:
Bread And Butter Pickles
6-7 pounds of 3-5 inch pickling cucumbers
6 cups cider vinegar
3 cups water
1/3 cup pickling salt
2/3 cup sugar
1 teaspoon red pepper flakes
1 ½ teaspoons turmeric
2 teaspoons celery seed
1/4 teaspoon each: oil of cinnamon and clove
4 teaspoons mustard seed
Snippet of bay leave in each pint jar
Sprinkle pickling salt over cucumbers sliced to your preferred thickness. Cover with crushed ice for 3 hours, drain and rinse.

Toss mustard and celery seed, and pepper flakes with rinsed cucumbers.
I love getting my hands involved at this point. Pack the cucumbers in sterilized jars. I like to add red bell pepper or julienned carrots for eye candy.
Meanwhile, bring the turmeric and oils , sugar, water and vinegar to a boil. Pour the brine over the pickles leaving one half inch of headspace. Seal and process for 10 minutes in a hot water bath and store in a dark cool place.
These pickles really need time to come to fruition for taste and texture, so try to refrain from opening for 6 weeks.
If not, and this is the first time out and curiosity is raging; make sure that there is a jar that does not seal and sample from the fridge the next day.
Yield is about eight pints not counting what was eaten in preparation.